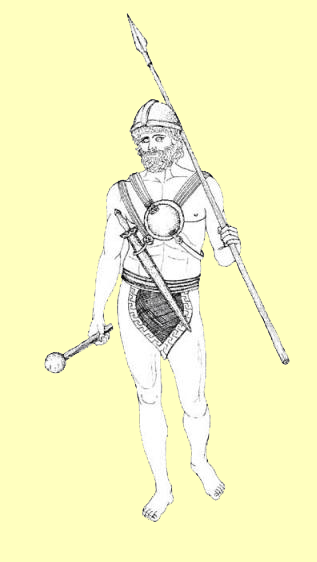 The research has identified some archaeological areas: the remains of the ancient Cures, the necropolis of Colle del Forno, pertinent to the city of Eretum, the large necropolis of Poggio Sommavilla, the center of Magliano with the burial grounds and the necropolis of Otricoli.Le vie followed in the descent towards the Tiber valley, were those marked by the valleys of the Velino and Nera rivers by the valley bottom roads and by the path of what later became the Via Salaria, through which, the inland populations were supplied with salt at the mouth of the Tiber.
These Sabines of the Tiber, for a long time the only Sabines known to the Roman tradition, achieved considerable wealth. Dionysius of Halicarnassus, treating the story of Tarpea, recalls that at the time of TitoTazio, the Sabines wore gold and were no less lovers of the Etruscan refinements.
Strabo, referring to previous testimonies, says that the Romans first felt the benefits of wealth when they became lords of this people. The Sabini Tiberini developed a national script, modeled on the southern Etruscan, but with their own innovations. This writing is documented in the second half of the 7th century BC by the miniature flask of Poggio Sommavilla and by the fragments inscribed, from the necropolis of Giglio di Magliano Sabina.
Unanimous opinions define as italic the language used in the two registered texts, with the possibility of connecting with the south piceno also on the basis of a common alphabetical tradition. The image that the archaeological research has given us of the Sabines of the Tiber is that of a group largely involved in the processes of cultural and economic transformation that occurred in the Tiber basin during the VIII and VII century BC. By reworking the influences from the Etruscan world the Sabines developed a culture of their own, which spread to the territories of the Adriatic side. The Museo di Magliano gives a testimony of this.